Application of microarray technology in pulmonary diseases
Respiratory Research
2004
5:26
Received: 26 September 2004
Accepted: 07 December 2004
Published: 07 December 2004
Microarrays are a powerful tool that have multiple applications both in clinical and cell biology arenas of common lung diseases. To exemplify how this tool can be useful, in this review, we will provide an overview of the application of microarray technology in research relevant to common lung diseases and present some of the future perspectives.
Microarrays
pulmonary fibrosis
asthma
chronic obstructive pulmonary disease
acute lung injury
pulmonary edema
sarcoidosis
pulmonary diseases
Microarray technology is rapidly becoming a standard technology used in research laboratories all across the world. Since its first application in the mid 1990s [
1
] microarray technology has been successfully applied to almost every aspect of biomedical research [
2
–
7
] with over 250 papers in respiratory research alone. Research conducted the last ten years has elevated the status of microarray technology from poorly understood and doubtfully applied in the fields of medicine to one that requires attention when the examination of clusters of genes in a single experiment is considered. Far more progress has been made toward an understanding of the pivotal role of microarrays in respiratory research by providing the scientists well-established knowledge concerning numerous genes that can be used as potential drug targets, mediators and inflammatory molecules with important cellular functions, evidence that captured the interest of both clinicians and researchers and caused a consecutive year by year rise of the applications of microarrays in experiments designed to study pulmonary diseases. Thus microarray technology since its first application [
8
] in the field of respiratory medicine has already been used the past five years in almost every aspect of respiratory research with an increased rate of application resulting to an overall of approximately 250 published papers until now (Figures
1
,
2
). Though the majority of experiments using microarray platforms was designed to study lung cancer (Figure
2
) we excluded from this review this data, because considering the number of published papers, the enormous data derived from these experiments could compile a separate review article on its own. The scope of this review was based on the fact that although there are numerous original published papers using this pioneering method, the number of review articles summarizing the importance of microarrays in the research field relevant with pulmonary diseases still remains inadequately small.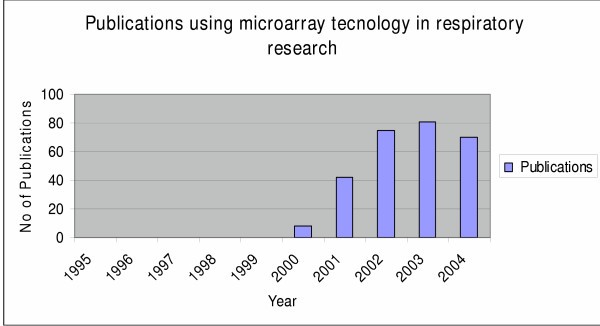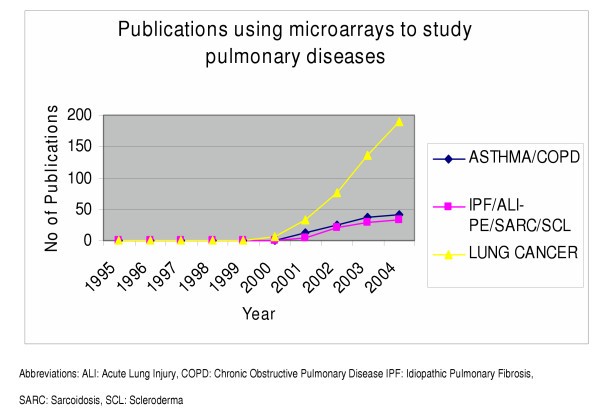 Currently, the use of microarray technology in respiratory research is limited by the tissue sample, incomplete available arrays and the analysis of data generated from this technology. Clinical use of microarrays technology is still in its infancy and remains exploratory. For these array-based methods to become truly revolutionary, they must become an integral part of the daily activities of the typical molecular biology laboratory and biomedical institute. There is plenty of room for technical improvements, further development, and more widespread acceptance and accessibility. Optimistically thinking we expect that over the next few years the pattern of development and use of microarrays will be on a similar trajectory to that seen for computers and other high-tech electronic devices, which started out as exotic and expensive tools in the hands of the few developers and then moved quickly to become easier to use, more available and less expensive. Alternatively authors believe that so far microarrays have not added much to our understanding and the possibility to live up to the great 'hype' that was generated belongs to the distant future.
Our view is that the application of these approaches will improve dramatically the effectiveness and reliability of microarray technology in studies of diseases of complex organs like the lung, and will have a major impact on our understanding of molecular pathogenesis for the foreseeable future. Whether our hopes will be fulfilled or disproved remains to be seen.
ADA:

Adenosine Deaminase
ALI:

Acute Lung Injury
ASM:

Airway Smooth Muscle
a-SMA:

a-Smooth Muscle Actin
BAL:

Bronchoalveolar lavage
CAGE:

Composite Atopy Gene Expression
COPD:

Chronic Obstructive Pulmonary Disease
CCR7:

Chemokine Receptor 7
DEP:

Diesel Exhaust Particles
ECM:

Extracellular Matrix
eQTL:

expression quantitative trait locus
G.I:

Gene Intensity
Ig:

Immunoglobulin
ID:

Inhibitor of Differentiation
I/D:

Intensity/Background ratio
IPF:

Idiopathic Pulmonary Fibrosis
MBP:

Major Basic Protein
MCs:

Mast Cells
MCP:

Monocyte Chemoattractant Protein
MMP:

Matrix Metalloproteinase
NF-κB:

Nuclear Factor-Kb
nsPLA2 :

snake venom phospholipase A2
RT-PCR:

real time-polymerase chain reaction
TGF-b:

Transforming Growth Factor-b
TNF:

Tumor Necrosis Factor
UIP:

Usual Interstitial Pneumonia
VEGF:

Vascular Endothelial Growth Factor
Acknowledgements
The authors thank Panagiotis Pantelidis (PhD) for his constructive and helpful comments especially on the methods section of our review. The authors are also grateful to Dr.Karameris Andreas. for providing us the microarray image from his illustration courtesy.
(1)
Department of Pneumonology, Medical School, Democritus University of Thrace, Thrace, Greece
© The Author(s) 2004
This article is published under license to BioMed Central Ltd. This is an Open Access article distributed under the terms of the Creative Commons Attribution License (http://creativecommons.org/licenses/by/2.0), which permits unrestricted use, distribution, and reproduction in any medium, provided the original work is properly cited.